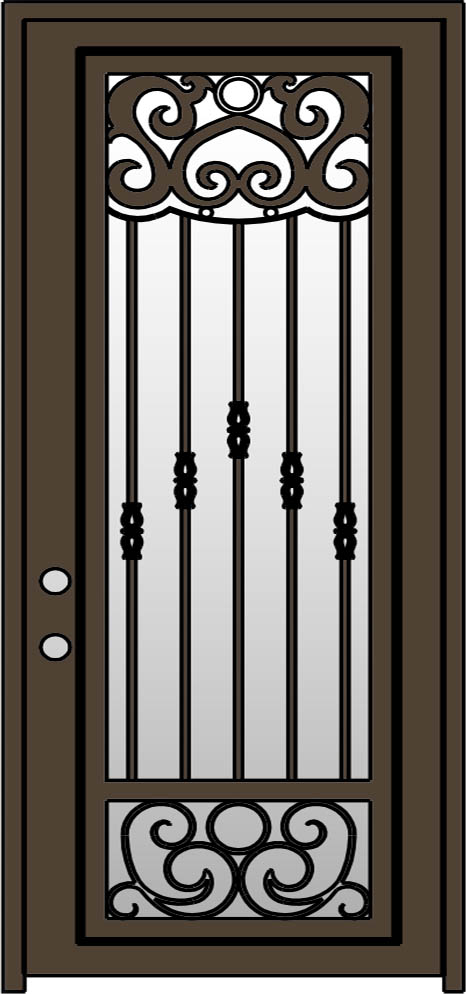 The Balboa design includes a plasma-cut at the top of the design with a standard kickplate at the bottom with a unique pattern embedded. Balboa also features vertical square-bar with upward v-shaped knuckles. This design is available in all sizes except "3680 Eyebrow with a Kickplate." 
Available Door Sizes: 3068

 (37-1/2″ x 81-3/4″), 

3080 (40-1/4″ x 99-3/4″), 3680 (46-1/4″ x 99-3/4″), 6080 (76-1/2″ x 99-3/4″), 60110 (76-1/2″ x 138″)
Standard jamb widths for 2 x 4 (4-5/8″ or 6-5/8″) and 2 x 6 (6-5/8″ or 8″) stud walls.
Pre-drilled holes allow the jamb to be positioned and secured at up to 14 points.
All doors and jambs are made of 14 gauge steel and insulated with foam.
Decorative 10″ custom made ball bearing hinges with stainless steel pins.
Our glass is 3/4″ thick double-paned tempered and insulated units.
Glass panels are operable for easy cleaning and functionality.
Interior glass latches secure glass panels to the door.
Decorative grills provide beauty and security.
Includes 2 standard finishes options (Medium Bronze or Black).
Various custom finishes available upon request.
Patented modular-construction allows installation in 3 easy steps.
Choose from 17 standard designs or work with us to completely custom-design your door.
View This Door In Person
Request Showroom Appointment
Request Quote
Interested in a door? Let us prepare a quote for your project.